Cryopreservation
Specialize In The ART Of Cryopreservation With Us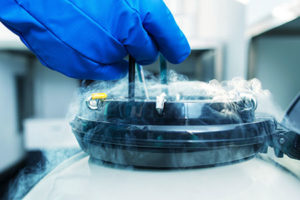 Child birth is a fascinating process as well as a basic primal process of life. The world runs on this cycle of birth and almost every individual strives for a child of their own. This striving although a basic instinct remains strive for a lot of couples. Infertility is raging to be a global problem nowadays. The increasing statistics of infertility is alarming. A news report says that in India the rate of childless couple is as high as 27.5 million. The global rates are even more shocking. As medical practitioners, it's high time for us to train ourselves with proper knowledge to combat with this demented problem.
Cryopreservation: What and why
To define cryopreservation in simple terms, it means to preserve certain living samples under critical temperature. In the world of IVF, cryopreservation is an essential tool. The embryos, oocytes and sperm collected from patients are stored under critical temperature with the help of this process. Among different types of cryopreservation the common ones are:
Embryo cryopreservation: Where the entire embryo of a women or parts of it are extracted and preserved. This is extensively used as the eggs can be retrieved later on during IVF cycles or it can be implanted when the women is ready to conceive.
Oocyte cryopreservation: Here instead of the entire embryo, the eggs or oocytes are collected and preserved. This needs to be coordinated with the cycle of women and put her on fertility medications for fully functional healthy eggs. This helps in case, the woman wants to be pregnant in future by natural means.
Both these techniques have some prime importance, not only in IVF and infertility treatment, but also in fertility preservation. This is mainly important in case of women and young girls with cancer or other life threatening diseases treatment of which requires ovarian inducing drugs or radiation or surgical removal of reproductive organs. So in order to successfully retrieve and cryogenically preserve oocyte, embryo the fertility doctor and clinical embryologists needs to have utmost expertise in handling and care.
At ISRME
At ISRME, we predetermined to impart the best of knowledge to our trainees and bring smiles back to all those couples in need. Our elite faculties including Goral Gandhi, a world renowned IVF specialist, and our honorable director, Goral Gandhi a clinical embryologist of international repute having experience of more than two decades, some world renowned IVF and fertility doctors, gynecologists, obstetrics, molecular biologists, biotechnologists and many others.
Our short termed knowledge impeccable courses train students in a 3 course mannerism.
One to increase the knowledge by our classroom studies and hands on laboratory training.
Second is to increase their trouble shooting skills by interactive sessions.
Third increasing their innovations and stretch of knowledge by extensive case studies and third party reproduction management techniques.
Pitching for Excellence
Our motto at ISRME is to deliver excellence at all costs to all our trainees. Our courses offer vast knowledge of international clinical standards at affordable prices in minimal times. So pitch out to excellence in field of infertility treatments and join ISRME family today.