Embryo Freezing
Learn All About Embryo Freezing And Other ART Techniques From The Experts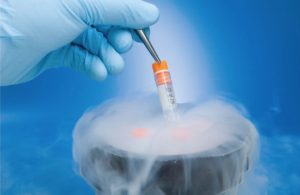 Infertility is a raising problem in today's world. The current percent of couples fighting with childlessness is alarming. Be it today's living style or be it the ever continuous genetical rearrangements and mutations the stakes of infertility are raising. Also some life threatening diseases and their treatments require chemotherapy, radiation and other ovary toxic treatments which induce sterility in females. So whether it's genetical, environmental or some inductive causes the cases of infertility among couples are increasing at a cumulative rate. As professionals belonging to the sector of reproductive biology, it is our major responsibility to learn everything about infertility treatments and gain expertise, so that our knowledge and skills can bring back smiles to those couple's face.
Embryo Freezing and its utility
Embryo freezing is a technique that not only allows treating infertility, but also used in preserving fertility in case of women fighting with some illness or infections. In this method, the embryos are collected and cryopreserved at a critical temperature for future use. The embryos thus stored are used later in the same patient or maybe implanted in any patient for infertility treatment. For the embryos to be preserved, first the patient is given a course of fertility medications for developing healthy embryos which are then removed surgically and stored. If the patient wishes to be pregnant again, the embryo might be implanted again either by IVF or ICSI.
This treatment is complex as it requires a rightful blend of surgical knowhow and hormonal medications as well as vitrification techniques. So for a successful vitrification and implantation, having the rightful training is necessary.
Our goals
We, at ISRME believe in catering excellence and imparting them to all our students. Our elite world renowned faculties have structured the courses in such a way that it takes minimal time to give robust scientific knowledge to all our trainees. Our course curriculums have different modules starting from clinical modules to embryological modules and even customized course specific modules. The vitrification of oocyte and embryos are taught within a well structured module having some key features like:
Proficiency in handling vitrification of embryos
Record maintaining in cryobiology
Various tricks to trouble shoot during vitrification
Successful implantation
Media handling and culture formation.
Storing methods etc.
Our Team
This course is directed by our honourable founder & scientific director Goral Gandhi, an expert in clinical embryology and ART techniques. She has a vast experience in this field of over 25 years and has trained over 600students across 13 countries.
Dr. Masashige Kuwayama, our medical advisory board member and director of world's largest IVF clinic with over 27,000 cycles per year, Repro-Support Medical research Center, Japan
Dr. Soumya Shetty, an expert of gynaecology and obstetrics with a M.S and a vast experience in this field.
Dr.Anupreeta Parag Patil, a highly experienced member of our team with experience of in handling and caring of IVFs in country and abroad as well.
Sakina Kagalwala, an elite embryologist with in-depth knowledge in laboratory handlings and vitrifications.
With a team of most competent and elite members, ISRME always imparts the rightful knowledge at par industry standards. So join Our family and be a professional.