Goral Gandhi
Mrs. Goral Gandhi, Scientific And Laboratory Director
MSc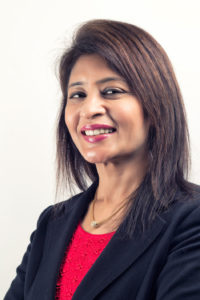 Goral Gandhi is the Founder as well as Scientific and Laboratory Director at Indo Nippon IVF, Mumbai. India.
Goral's expertise in the IVF domain as a Clinical Embryologist is backed by decades of experience in the design, establishment, and running of successfully assisted conception centers all across the country. She has been involved in setting up as well as maintaining high success rates at 17 private IVF Centers in India between 2000-2012 as a Clinical Embryologist. She was looking after 8 IVF Franchisee units in India between 2000 – 2011 at Delhi, Jalandhar, Gorakhpur, Pune, Srinagar, Jammu, Rewari& Ahmedabad. Presently she is involved with a highly successful unit in Varanasi, India.
Goral earned her master's in Applied Biology from the King Edward Memorial Hospital, University of Mumbai, for her research work on " Quality Control in Laboratories". Three months of her Research period was spent at the quality control laboratory, Hammersmith Hospital, UK. She subsequently served as a Research Fellow at the In Vitro Fertilization Laboratory of the University Hospital, Belgium and Egyptian IVF Center, Cairo, where she gained extensive experience in all ART techniques and Laboratory management. After coming back from her training abroad, Goral joined an IVF center in Mumbai, India as Laboratory Director in the year 2000. She served at this position in the same center for 18 years.
Goral is responsible for developing highly successful eggs and embryo vitrification program at Indo Nippon IVF. She is one of the pioneers in Egg Freezing in the country and has trained over 500 embryologists from over 18 countries in the techniques of vitrification for eggs and embryo cryopreservation. The development of a highly successful egg donation program at Indo Nippon IVF has made it possible to achieve pregnancies in women who have premature ovarian failure.
Goral and her world-class team of Reproductive endocrinologists, embryologists, andrologists and infertility specialists have helped hundreds of couples have babies through Assisted Reproduction.
Goral regularly participates in meetings and courses conducted by ESHRE, ASRM as well as Indian Organizations. She keeps herself updated with the latest developments in the field and is responsible for standardizing the latest cutting edge technologies offered at the Indo Nippon lab. She has attended training programs at leading IVF centers in Belgium, Egypt, Israel, Singapore, Spain, Germany, Turkey, USA, and Japan.
Goral has been invited as a guest speaker at over a hundred national and international meetings. She has co-authored over 20 chapters in many medical textbooks. She has been a co-author for many publications in national and international journals. She has been the Joint Organizing Secretary for seven international conferences on infertility and assisted reproduction. She has been on the Organizing Committee of four other International conferences. Goral Gandhi started her career in embryology along with another leading IVF doctor, since then Goral Gandhi IVF and ART techniques have been made her a maestro in the field of reproductive biology. Dr Goral Gandhi Mumbai is a name in itself and Goral Gandhi news and articles can be followed as an inspiration in the field of IVF.
Goral has found a new love and passion in imparting IVF and embryology training to clinicians and embryologists. She has set up a global training school at Indo Nippon IVF ( www.learnivf.org ) She has trained over 500 clinicians and embryologists, not just from India but from many other countries as well. Most of her trainees have now blossomed into very competent, independent embryologists and clinicians, with quite a few of them now running their own independent IVF units. A leading embryologist Goral Gandhi has been a part of many scientific publications around the globe. To know more Goral Gandhi and Goral Gandhi news read our comments section.
RESEARCH INTERESTS
Throughout her career, Goral has been actively involved in clinical research in embryology. Her research activities are geared towards developing innovative culture and cryopreservation methodologies to improve clinical pregnancy outcomes. Current research projects are focused on egg and embryo vitrification, single sperm cryopreservation, blastocyst cultures, embryo growth and selection, and gamete/embryo micromanipulation. Having trained at the Kato Ladies Clinic, Japan for embryo and oocyte vitrification, her current passion is vitrification. She has very successfully introduced the Vitrification technique at the Indo Nippon Laboratory and dramatically improved Indonippon's cryopreservation program, making it comparable to the best in the world.
PERSONAL INTERESTS
Literature, traveling, parenting her two children.
Connect With Me On
Website   Twitter   Facebook   Linkedin   Read CV   Make an appointment